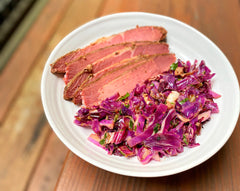 With the same idea of dry-brining a turkey, dry-brining a brisket uses salt to draw out the moisture, the moisture gets seasoned with the rub, then reabsorbed back into the meat.
A 48-hour sous vide produces a juicy, tender and moist corned beef, while the 10-hour sous vide makes a corned beef that's a bit firmer and drier. If you are just making corned beef for hash or sandwiches or pressed for time, the 10-hour version will be great.
And if you are looking to speed this process up, you can start with an already brined corned beef from your butcher or grocery store, rub with the SpitJack Smoked Rub before sous viding using either time or temperature.